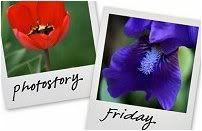 Hosted by Cecily and MamaGeek
So this will be my first posting with Photostory Friday .. what a fabulous idea. I have started to enjoy doing fun photo projects .. so when I checked out
tommie
's blog and saw her new Friday entry .. I played copy cat! .. Actually today's blog will be more like "copy dog" ..
The rules are simple .. basically post a picture that you took, and tell the story .. well, there is ALWAYS a story here in our household .. as I was wondering what to post, I was cleaning the kitchen .. (somehow the phrase "the kitchen is closed" doesn't work anymore with teenagers ..), and at the same time I was dodging Demi, the Weimaraner. She doesn't drink water like the rest of the dogs .. instead she bites the water, and then keeps her mouth open as she walks away from her water bowl. Then she likes to come to you in shear appreciation and share the water that she hasn't swallowed yet. When my children were babies, I remember walking around with a cloth diaper for the spit ups ... I find myself keeping a paper towel close by just so that I can wipe my legs from her show of affection and appreciation! So, as I was wondering about the latest blog .. it finally came to me during a moment of aggravation .. my sister's words rang in my head "you know, she is quite ugly ...". My sister meant Demi! Demi was the latest addition about 8 weeks ago .. I sent out an email with her picture .. and my sister, the big dog lover that she is ..(NOT).. came out with "she is quite ugly!".
Weimaraners are supposed to be known for their photographic pose .. if you remember on Sesame Street .. they were always dressed up, and acted like sophisticated dogs ..



Well, what happened with Demi? "Ugly" my sister said?! Well, today I decided to try and prove her wrong ...
She tends to look like a hound dog, with her big nose ..
She still has so much skin to grow into ..
"unfair .." she barks ...
This is when I appreciate her the most ... quiet and asleep!
Did I mention we have a Golden Retriever with the name of Bruce? We didn't really plan it like that .. when we took Demi on, it was her given name! It didn't turn out well for the original Bruce and Demi .... oh dear!