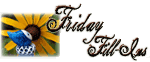 1. _
Cooler weather, the feeling of Fall, (maybe more candy corn?)_
are some of the things I'm most looking forward to in October.
2. Sometimes I _
contemplate what it would be like if I allowed my hair to go completely gray .. then I think of my mother who would probably disown me, considering she already thinks I have let "my skin go" .. I guess I am not ready to be a "natural beauty" yet!___.
3. _
Never had I thought I would drive from Texas to Maine (and back), just me and the kids .. but we did and it was one of my best summers EVER
_ and that's why there is a saying, "never say never"!
4. When I'm down, I
hit the pavement either walking with the dogs, or running by myself
__.
5. _
Lately, in the truck
__ is where you'll find me most often.
6. A rainy day is good for
_wrapped in a blanket on the couch ..__.
7. And as for the weekend, tonight I'm looking forward to
__wine, pizza and the debate_,
tomorrow my plans include
_maybe a run, a visit to Sam's Club___
and Sunday, I want to _
relax
_!